In the last few days, the country faced issues that can really pose threats to the health of its citizens. One is the tremendous fish kill in Taal Lake, and the other is the recall of various energy drinks and food products from Taiwan. The news sent great alarms to many people, considering that they involved food common to consumers. Here are the details of these issues.
Fish Kill in Batangas and Pangasinan
Residents in Batangas and Pangasinan were distressed as a massive fish kill hit a portion of Taal Lake. Thousands of cultured bangus, or milkfish, and tilapia were seen dead and floating on the lake, leaving the local fishing community dumbfounded. At least 800 metric tons of fish were dead, costs pegged at P57 million. The fish kill is expected to continue for a month more.
It is noted that the abrupt drop of temperature caused the lack of oxygen which eventually killed the fish. Authorities have then warmed fishermen not to overcrowd fish cages to avoid the said problem.
Meanwhile, the remaining fish in Taal Lake are safe to eat since the fish kill was not due to poison. The dead fish were reportedly buried for health and sanitary reasons. Others were feed to crocodiles in a local crocodile farm. However, it is feared that double dead fish and processed products will be sold in markets.
Contaminated Energy Drinks and Food Products from Taiwan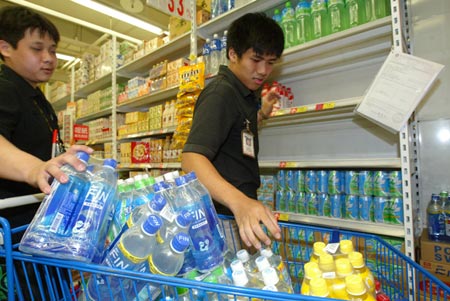 The Philippine government has warned the public that some Taiwanese products, specifically energy drinks and fruit juice, is contaminated with a chemical known as DEHP or Di(2-ethylhexyl) phthalate/Bis(2-ethylhexyl) phthalate

which is a plasticizer or additive for making plastics and PVC products. It is believed that the chemical has been used as a clouding agent in the drinks, giving them a "cloudy" and "rich" look. Taiwan has earlier recalled products like Speed Sports Drink in regular and lemon flavors in 600ml bottles and Dong Nung 1000 Sports Drink in Hong Kong due to the same reason. Taipei warned Manila that DEHP could have been illegally added to food products exported to the Philippines. Authorities have already received the lists of contaminated products and announced their recall in the local market.
DEHP is not poisonous and intake of this chemical does not have immediate effects. However, drinking high levels of DEHP over a long time can affect the liver and kidney and even cause cancer. It can also lead to male infertility and even block the sex organ growth of boys.